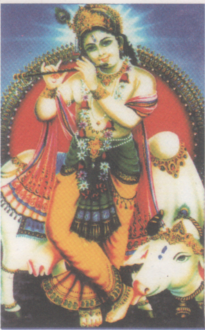 Cow is the most virtuous, divine animal and all the devatas are present in it. In one respect, Cow is better than our own mother because it supplies milk to all. It is well settled in Vedas and in Puranas that a person should donate cows at least five times during his tenure of life. Ancient noble kings and emperors had maintained and donated cows in thousands to deserving people. 
Having all this mind, the above trust was started and it is taking care to a very small humble extent at Atkur, Allahabad, Anakkaputhur, Aianavaram, Abbur, Coimbatore, Chinthavadi, Dwaraka, Erode, Gaya, Gangavarpatti, Hospet, Hyderabad, Holehonnur, Haridwar, Kantavara, Koralhalli, Kasi, Manamadurai, Mannur, Malkeda, Matrugaya, Mysore, Mahishi, Palimar, Pandrapur, Penakonta, Srirangam, Shimoga, Santebidanur, Srirangapatnam, Theethipalayam, Trivallur, Tirukoilur, Udupi, Vijayawada, Yelagur, Neelavara etc. Still many places have to be included and quantum of contribution should also be increased.
Therefore, we request you to please contribute towards Corpus Fund of this noble Trust with sizeable amount so that this charity can be carried on for many many years in the future. The virtue – Punya which is earned by this noble donation is really immeasurable and is very great.
This trust known as Cows Welfare Trust (Regd. 938/2011) was set up on 5th August 2011.
The main objectives of the trust are as follows –
To protect the welfare of cows and bovine cattle in general and in particular to protect them from cruelty , neglect, deterioration and destruction of all kinds.
To open and run Goshalas and provide financial assistance to other Goshalas formed for similar objects.
To provide medical assistance to aged, infirm, harassed and sick cows and bovine cattle housed in the Goshalas.
To make arrangements for provision of fodder to cows and bovine cattle for their well being.
to propagate and disseminate the knowledge of utility and medicinal values of cow dung and cow urine in curing many ailments of the human body
In general to ensure the welfare and protection of the cows in India by taking care of them as much as possible and to execute all activities connected for the above purposes.
Please contact us (contact@gyanasampat.in) for making contribution to this noble cause.