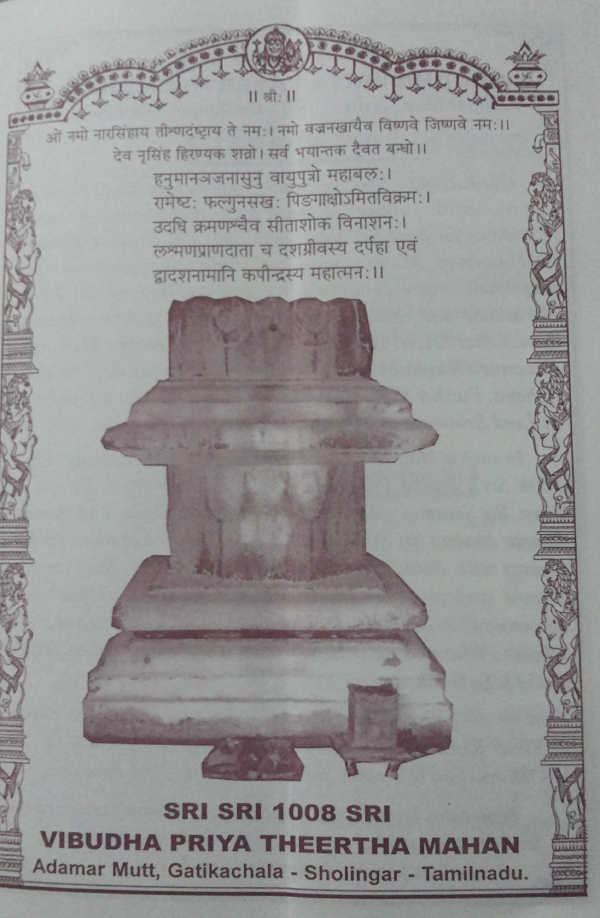 Admar Mutt, Gatikachala – Sholingar – Tamil Nadu.
Gatikachala – Sholingar near Arakonam in Tamil Nadu is a very great ancient Kshetra with two glorious mountains for Lord Sri Narasimha and His Greatest devotee Sri Hanuman. Many many sages, rishis, saints, sanyasins had performed severe penance there and worshiped Sri Lord Narasimha and Sri Hanuman and completed their sadhanas there. Great Sri Sri 1008 Sri Sathyabodha Theertha Mahan of Savanur (Karnataka) did upasana for several days in that Kshetra. Further Mahan Sri Sankarshana Odayaru was ordered by Lord Srinivasa at Tirumala to do seva at Sholingar.
In such a holy place the holy Brindavan of Mahan Sri Sri 1008 Sri Vibudha Priya Theertha of Admar Mutt, Udupi, is there. Sri Swamiji was a very great learned scholar and trained famous Mahan Sri Vidhya Manya Theertha at Sholingar for 4 years with pata pravachana. In the year 1916, Sri Swamiji blessed and awarded the title "Sri Githartha Vibhushana Sironmani" to Sri C.M. Padmanabhachar, Coimbatore, a great scholar (who was the maternal uncle and protector of my father Sri. D.V. Subbachar)
Now by the grace of Sri Harivayugalu, it is proposed to submit
Silver Kavacham for Holy Brindavan of Sri Swamiji.
Construction of a room for convenient stay for devotees.
Hence this humble self requests your goodself to contribute for this most noble, eternal, pious and virtuous cause, as much as possible from your noble hands.
Payments can be made by Cheque or Cash or Draft or M.O in the name of
Vittal Associates
598, Telugu Brahmin Street, Coimabatore – 641001.
Tamil Nadu.
or by Account Transfer to
Vittal Associates
State Bank of India, Coimabatore – 641011
S.B A/c No. 11012996299
IFSC Code: SBIN0004792
For any queries, please do email – contact@gyanasampat.in
T.S.Raghavendran (TSR)
Most humble and obedient devotee of Great Sri Madhwacharya.
12-Nov-2014
Coimbatore