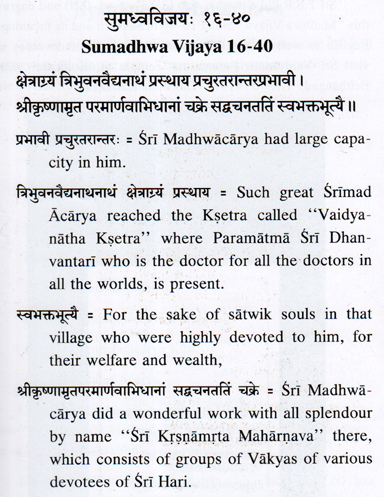 Sumadhva Vijaya 16-40
 From the village called 'Idetude' Sri. Madhvacharya proceeded to the village called "Kokkada". There in that village, there is the temple of Paramatma Sri. Vaidyanatha. This Bhagawan Sri. Vaidyanatha is the doctor for all doctors in all three worlds.
There in that village Sri. Madhvacharya who had large capability and jnanam, did the splendid work by name "Krsnamrta Maharnava" for the sake of the staunch devotee Edepuditaya and saved him.
Krnamrta Maharnava is a splendid and wonderful work consisting of 230 slokas with all simple style.
There are many commentaries available on this noble grantha.
1. Tamraparni Sri. Srinivasacharya by name Tarangamala
2. Sri Krsnacharya by name Smrtimuktavali, who was a direct disciple of Mantralaya Mahan
3. Umarji Prahlada Krsnacharya
4. Sri. Upendra Bhatta
5. Sri. Avadhani Krsna Bhatta
6. Sri. Krsnacharya Dipa
7. Sri. Timmannacharya Varakhedi
8. Sri. Timmannacharya Kasi
9. Sri. Panghri Achaya
Following this great work, Sri. Narayana Panditacharya had done Madhwamrta Maharnava, a marvelous work which every one of Dwaita school should read compulsorily.
Sri. Satyabhinava Tirtha Mahan of Nachairkoil (T.N.) has done a splendid work by name Ramamrta Maharnava following the grantha of Sri. Madhvacharya
Sri. Dhanvantari Mahaprabhu 
(Kokkada, Belthangady, Daksina Karnataka. Pincode: 574198)
This famous kshetra is situated on the Western side from Sahyadri mountain towards the end In the taluq of Belthangady towards the south end, compared to the other regions, it is situated in the North and hence it is called as "Kokkada" (in height and also being flat). 
For the Devata Sri. Subrahmanya Swami in the tail the bird present is hen (Koli) Kukkuta. Since this place is very popular for hens, it is called as Kokkada by name.
This ksetra is most sacred and popular because of three reasons.
1. There is a temple for Paramatma Sri. Vaidyanatha – Dhanvantari Bhagawan
2. Sri. Madhvacharya had visited this temple and stayed there and did one of his famous Grantha Krsnamrta Maharnava here and cured the teacher from death bed.
3. There is a tank in which in the middle there is a temple for Nilakantha (Lord Shiva)