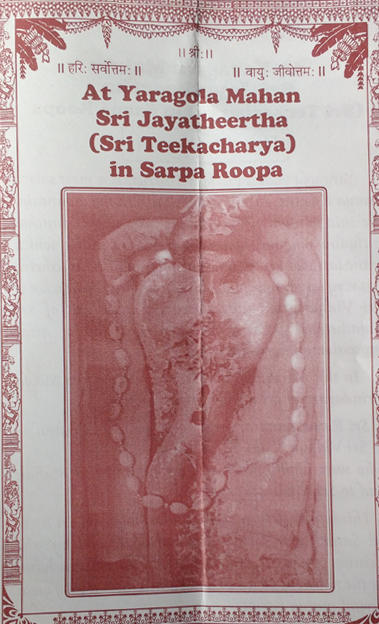 Yaragola village (Yagdiri District) is a most sacred Punya kshetra. At the small tunnel in the mountain, the said Mahan wrote twenty two (22) granthas including magnum opus Sriman Nyaya Sudha, which is the last word in Vedantic philosophy.
This kshetra has very large importance in Vedanta since great scholar Sri Vidyaranya appreciated the granthas of Sri Jayatheertha Mahan and arranged for a great procession on elephant.
In this marvellous and unique kshetra two Moola Brindavans of great Mahans are present.
Sri Sri 10008 Sri Ramachandra Tirtha (1407 AD – 1436)
द्युमण्यभिजनाब्जेन्दूरामव्यासपदार्चकः।
रामचन्द्रगुरुर्भूयात् कामितार्थप्रदायकः॥
and
Sri Sri 10008 Sri Vidhya Nidhi Tirtha (1436 AD – 1444)
यद्भक्त्या मूलरामस्य पेटिका त्यक्तभूमिका।
विद्यानिधिर्धियं दद्यात् अष्टषष्ट्यब्दपूजकः॥
who were highly devoted to Sri Jayatheertha Mahan and to Sri Madhvacharya.
This humble devotee by the anugraha of Sri Sri 1008 Sri Satyathma Tirtha Mahaprabhu and by the blessings of parents, propose to submit silver kavachams for the two holy sacred Brindavans. This is a very great eternal punya karya.
Hence humble prayers are submitted to contribute for this noble, eternal, unique, auspicious cause as much as possible.
Payments can be made by cash / DD/ Cheque in favour of  Sri T.S. Raghavendran M.A., B.L., 598, Telugu Brahmin street, Coimbatore – 641001.
Or, can be transferred to the credit of,
T.S. Raghavendran
SB a/c No. 11012995401
IFSC: SBIN0004792
Bank: State Bank of India (SBI – Coimbatore 641011)
It is a great opportunity to earn eternal Punya by the anugraha of Sri Hari Vayugalu.
T.S. Raghavendran
For any clarifications, please write to contact@gyanasampat.in